Battery Widget Reborn have cool battery Resizable widgets on you home screen.Battery Widget Reborn provide battery monitor, battery information ,nighttime mode,notification area integration ,Power saving functionality.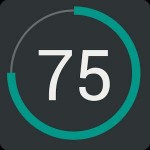 The Battery Widget Reborn Screenshot
Features:
WHAT'S NEW
Use Video
Battery Widget Reborn Information
Package Name: net.hubalek.android.reborn.beta [Play Store] File Size: 5.8 MB
QR Code: View
MD5 File Hash: c743e8d9752e51755525edb790123287
Last Fetched: 2015-05-16 02:29:17
Version: 2.1.11/BETA (131)
Battery Widget Reborn features
Resizable Widget
Resizable widgets are cool feature added in latest version of Android. Makes widgets management easier.
Battery Usage Stats & Chart
See how your battery perform. Long term stats. Battery charging and discharging chart!
Be always informed about remaining battery
Configurable status bar notification show all the information you need. Multiple icon themes.
Night mode saves battery!
You can save a lot of battery by turning your phone into night mode during the night. No radiation to you brain*), no annoying calls.
Basic battery info
– Battery Info
Charging and discharging chart
Extended notifications support for Jelly Bean phones
– optional charging and discharging chart
– power related toggles:
– Wifi
– Bluetooth
– Background Sync
– Airplane mode
– customizable notification priority
View Battery Widget Reborn History Versions

What is New OF The Battery Widget Reborn
WHAT'S NEW
Version 2.1.12
– fixed app crash introduced in version 2.1.10 and 2.1.11
The Battery Widget Reborn Use Guide
how to use The Battery Widget Reborn